Malaysia is a remarkable country, offering many experiences for both young and old alike, whether thrill or sun-seekers. With its rich history and vibrant culture, there is always something to explore for the curious traveler. It offers a variety of reasons to check off any traveler's bucket list, from the bustling city center of Kuala Lumpur to the picturesque beaches along the Straits of Malacca. Let's examine some compelling justifications for traveling to Malaysia. From city high fashion to trendy destinations and modern cuisine, there is always a natural escape. It is a sandy beach or a highland rainforest, visiting Malaysia's many spas and country resorts is a must. Whether you prefer a luxurious experience has something for everyone. 
1. Kuala Lumpur
When you enter Kuala Lumpur, the capital of Malaysia, you will be met with smiles and warm greetings from the minute you land at the world's best airport. You're in for a treat if you're seeking a city that never ends, whether it's the cuisine, the colorful culture, the shopping, the spas, or the nightlife. The city of East meets West is Kuala Lumpur. The city's architecture, which ranges from colonial to traditional to religious, and its cutting-edge infrastructure create a breathtaking cityscape. A multicultural fusion of cultures, traditions, and cuisines defines Malaysia's distinctive blend and hits your adventure life completely into a different world.
2. Mind-blowing wilderness experiences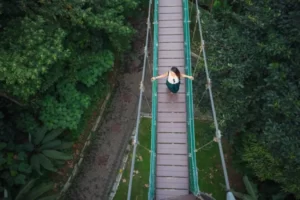 Malaysia has much to offer, from the jungles and national parks to the wildlife. You can't pass up the opportunity to escape the stress of daily life and find healing in nature. Did you know that, on average, 75% of Malaysia's animals reside on the peaks of the rainforest? The longest rainforest walk in the world, the Tree Top Walk, at 925 meters and 26 meters above the forest floor, is the finest place to witness these species. The best activities on this tour include wildlife, bird watching, jungle trekking, tubing, and white water rafting. A 130 million-year-old, pure rainforest can be found in Danum Valley. More than 500 bird, animal, reptile, and amphibian species call this 43,800-hectare area home. The Yellow Meranti (Shirley Meranti), a species identified by a UK-Malaysia team of scientists, is the tallest tropical tree in the world, standing at 100.8 meters.
3. Endless beach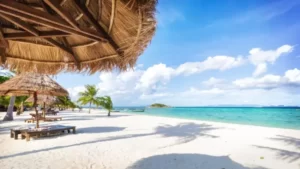 Enjoy the sunshine at one of Malaysia's unspoiled beaches. We're referring to places like Sabah, Mataking Island, Penang, Langkawi, and Perhentian Islands. You can lounge in the sun or splash with water sports, diving, or snorkeling all day. Additionally, the ease of first-class luxury and affordable lodging means you can stay only a few steps from the sand and water.
Visit our website page to learn more about Malaysia eVisa.
4. Experience adventure park delights
The best way to let your inner child loose is to explore Malaysia's numerous theme parks. There is always fun stuff to do, whether traveling with family, friends, couples, or just by yourself. Try sliding down an 11-story slide tower at Sunway Lagoon Theme Park in Selangor if you're seeking an adrenaline thrill. If you're looking for excitement, stroll along Tower Walk 100 across the glass cliffs and view the city. If you do not like heights, try water rafting on the neighboring Kampar River. Kuala Lumpur is roughly two hours distant, and three distinct kinds of rafting are available.
Additionally, you can admire the Gopeng forest's breathtaking natural splendor while traveling. And don't miss the renowned "5D" Waterplexx, the first of its kind in Malaysia, if you want to experience a real-life water adventure! It is a visually stimulating journey with various sights, sounds, and smells.
5. Health travel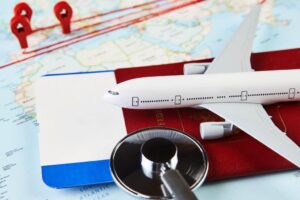 Why not treat yourself to conventional massages and spa treatments at a luxurious resort? Alternately, consider glamping in historic rainforests with waterfalls serving as your on-site jacuzzis. The standard of wellness tourism destinations in Malaysia. A traditional Malaysian Urut massage is available at the Banjaran Hotsprings Retreat, Ipoh, Malaysia's first luxury natural hot springs wellness retreat. The methods employed at the retreat have been passed down through the generations, including the method for making its renowned herbal massage oil, which is painstakingly made by simmering palm oil with various herbs and spices with warming and cleansing characteristics. Tanjong Jara Resort is where you can get five-star luxury. The resort provides lodging, eating, and a renowned spa village. It contains gardens, swimming pools, and a therapy center with stress relief, relaxation, and refresh programs based on conventional Malay, Arab, Indian, and Chinese healing techniques.
6. Foodie Place
Without experiencing Malaysia's diverse cuisine from its many ethnic groups, no trip there is truly complete. Malaysia's various regions each have something unique to offer. The seventh-ranked Assam Laksa on a list of the World's Best Foods is a must-try if you're in Penang. Visit Jalan Alor for a taste of real Malaysian street food. The entire stretch of Jalan Alor, close to the always-busy Bukit Bintang neighborhood, is set aside for hawker stalls. The best street cuisine from Malaysia's various ethnic populations, including the Malays, Chinese, and Indians, as well as the many others in Sabah and Sarawak, can be found here.
7. A land of myths and legends
Malaysian culture is enriched by the stories that are passed down from one generation to the next. These tales are told by traditional and community leaders and serve as a reminder of the significance of life. In modern times, these tales are retold at tribal meetings, in the form of street art, in shadow plays, and in the form of traditional dances. These stories can be found in the form of Moon Shadow Stories and Convergence, as well as in the streets of Penang and Perak. Additionally, audiences can watch a performance of these stories in Malaka's Encore Theatre.
8. Cultural diversity
In Malaysia, cultures, traditions, and people are harmonized, embodying a spirit of diversity. Visitors can participate in cultural activities and festivities throughout the year, particularly Hari Raya and Eid Ul Fitr. Malaysians celebrate and gather during Hari Raya, which marks the end of Ramadan. During Chinese New Year, visitors can sample some of Malaysia's most popular dishes and enjoy lion and dragon dances and fireworks. Deepawali's preparations can be observed in the Brick fields district of Kuala Lumpur, locally known as 'Little India.' Batu Caves, located just outside of Kuala Lumpur, is a popular destination for Hindu devotees, as the natural limestone caves feature temples and shrines.
9. The comforts of home
With Malaysia's famed hospitality, you'll feel at home. Participate in one of the many homestay programs the nation offers for a genuine cultural encounter. A stay in a longhouse will allow you to interact with Sarawak's indigenous population. In this immersive and communal living environment, chilly river dips can replace hot showers as you reconnect with nature. Here, you can eat local cuisine, dance to traditional music on distinctive Sarawakian instruments, and hear tales, folklore, and mythology. Use the Mescot Kopel eco-tourism effort to experience rural traditional Malaysian living. Participate in activities including farming, hunting, fishing, and village sports.
10. Rich legacy
A combination of traditional and colonial influences and modernity characterizes Malaysia. It has resulted in a country that is as rich in architecture and history as it is in people. Visitors to Malaysia can embark on a historical journey to witness the transformation of the country's heritage. Visitors can explore the George Town World Heritage Site near Penang, home to some of Malaysia's finest restored traditional architecture and heritage-related trades and art. Inside, the World of the 'Street of Harmony' reflects the influences of the various communities settled in Penang. Visitors can explore the World Heritage Site by walking, cycling, or taking a trishaw, a three-wheel bicycle with a driver. In Penang, one of the most prominent and valuable heritage buildings is the 'Mansion' – a sumptuous residence that combines Chinese, Malaysian, and European designs.
11. Mountain adventures
It has hundreds of peaks waiting to be scaled, making Malaysia a great adventure destination. Take on Mount Kinabalu, one of Southeast Asia's tallest mountains. The 'Walk The Torq' track, appropriate for hikers of all fitness levels, offers a bird's-eye view of Borneo's magnificence. The captivating Mossy Forest is located on Mount Brinchang in Pahang. Visits with a local guide are required to this reputedly 200 million-year-old forest in Malaysia. Or experience breathtaking views on the Mulu Canopy Skywalk, one of the longest tree-based walkways.
In conclusion, Malaysia is a prime travel destination with its wide variety of attractions. Along with a richness of natural beauty and adventure, it provides a variety of activities, such as cultural immersion and culinary delights. As a result, it is the perfect option for anyone looking for an exciting trip filled with learning opportunities, beautiful landscapes, and an in-depth grasp of Asia's unique culture.
Click here to apply Malaysia evisa.